Diversifying your portfolio is essential to being a successful investor. This is why it is one of the golden rules of EGrasps.
We've all heard the popular saying, "Don't put all your eggs in one basket", right? Well, this also applies to investing in stocks.
Diversification is essential to build long-term wealth. Diversification is one of the most important ways to achieve financial freedom because it helps reduce risk.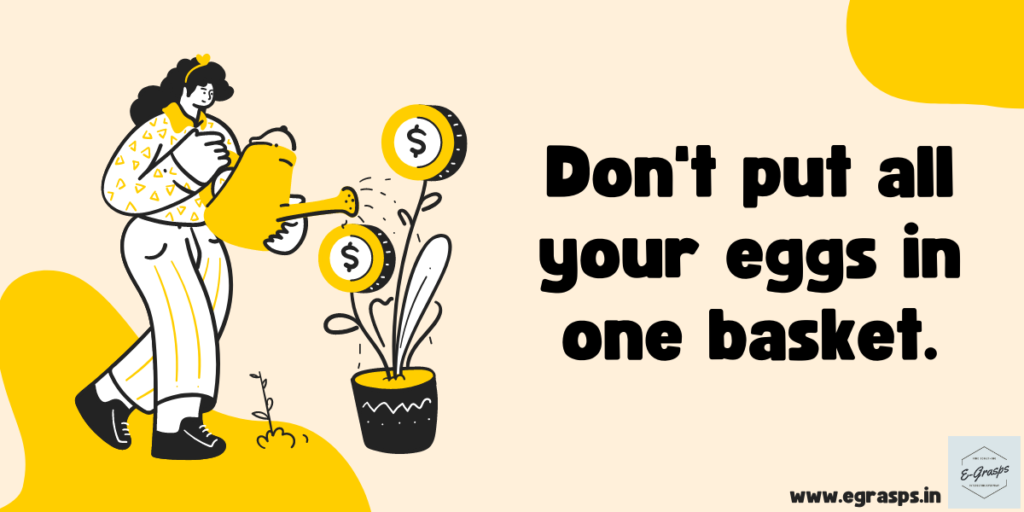 What does diversification mean for long-term investors?
In the world of investing, diversification is an investment strategy that helps reduce risk by holding stocks of various types. By diversifying, you can reduce risk, which will help you increase your returns by investing in different stocks that may react differently to the same event as per the market situation.
---
---
Steps to Diversify Your Portfolio
Invest in companies with different market sizes. These types are divided into small, medium, or large caps.
Although buying stock in large companies can provide stable and consistent profits, they may not be able to provide significant growth. A large portfolio also helps your portfolio survive volatility, as stock prices of these well-established companies don't fall much.
The mid-cap strikes a good balance between allowing for high returns and helping investors gain confidence as these companies move into established businesses.
Buying some small-cap stocks is also an option because these types of investments offer the best chance of growth, but they also have a high risk. This is why collecting a basket of different stocks is very important because it can help eliminate any risk that small companies hold.
Invest in Different Industries
Investors should also think about investing in different companies to avoid risks.
You can diversify your portfolio by investing in a variety of sectors including technology, retail, health, entertainment, food, energy, manufacturing, and many others.
Picking up Stocks in Different Regions
Another good way to diversify your portfolio is to invest in stocks from different countries because different markets tend to perform better at different times.
Because of the popularity and strength of the US stock market, investors can get exposure to international companies listed on Wall Street.
Some good examples of foreign companies include MercadoLibre (NASDAQ: MELI ) which is a company founded in Argentina, Spotify (NYSE: SPOT) the major music leader in Sweden, and Tencent (NYSE: TME) Spotify of China!
---
---
Diversify Your Investment Style
It is wise to strike a balance between buying individual stocks and mutual funds, or Exchange-Traded Funds (ETFs).
While individual stocks offer the opportunity for higher returns, Mutual Funds or ETFs offer more flexibility because they have exposure to a wide variety of industries.
An ETF can provide exposure to a group of stocks based on the region, industry, size, and number of other structures. You can also buy Mutual Funds or ETFs that track major stock indexes, such as the S&P 500 (NYSEARCA: VOO) and India's NIFTY50.
What are the Risks Associated with no Diversification?
To really understand the benefits of diversity, we need to look at the negative results that are possible if you buy stocks of companies from the same country, industry, size, or type of asset.
For example, suppose you invest more in Chinese stocks listed in the US in 2020. In this case, the government's intervention this year will affect your wealth significantly.
In recent months, Chinese authorities have taken a tough stance on companies listed in their region. If an investor does not hold anything from other countries, their portfolio will be in the red and can lead to what long-term investors should fear the most: selling fear.
Likewise, if you had a lot of travel and airline stocks before the pandemic, you would have been in the red when COVID-19 forced the world into lockdown.
To counter this, if you invest in different services such as e-commerce or advertising services, both of which have grown during the pandemic, your investment would not have been affected.
Should You Diversify Your Portfolio?
There aren't many guarantees in the stock market, but you can bet that in the long run some of your stocks will lose value. Volatility will always play a role in the investment game, so having a diverse portfolio of stocks will help prevent big losses and lead you to financial freedom.
---
We hope that we bring some value to your life by posting our content, which might meet your expectations. You can always comment on the post to give feedback or reach out to us through email for sharing what you like to read on our blog.
Reach out to us using email: [email protected]
Open Demat Account with Upstox | Zerodha | Paytm Money
Find More Articles on Our Website: EGrasps
Check out our other posts on Medium.
You can reach out to us on WhatsApp.
---